Sabancı Full-Time MBA Information Session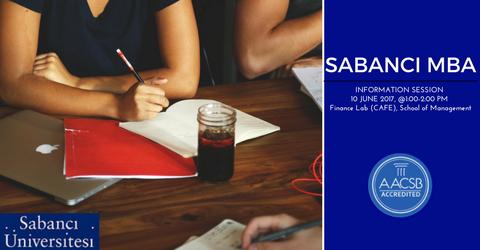 Dear Sabancı University Students and Alumni,
Sabancı University Full-time MBA late applications end on 9 June 2017.
We invite all prospective students to our information session for 2017-2018 applications on 10 June Saturday between 1:00-2:00 pm.
Get an in-depth overview of the full-time MBA program from Dr.Yusuf Soner (Executive Director) and Burcu Albayrak (MBA Program Coordinator).
Reasons to study Sabancı full-time MBA:
International recognition: AACSB accreditation, Beta Gamma Sigma Recognition
Length: Sabancı MBA diploma in 12 months
Hands on experience: Work experience before graduation through Sabancı MBA-unique Company Action Projects (CAP)
Career: Career coaching, career panels, Sabancı MBA mentorship program, professional development workshops, CV catalogues sent to 500+ companies
Networking: Support of Advisory Board consisting of C-level directors, MBA Club activities, guest speakers
International environment: 30% international students, exchange opportunities in USA, Europe or Far East (free)
Scholarship opportunities
Date: 10 June 2017 Saturday
Time: 1:00 pm
Venue*: Sabancı Tuzla Campus, School of Management, Center for Applied Finance Education (CAFE)
Registration link for Campus event: CAMPUS REGISTRATION LINK
*There will be free shuttle to Campus on 10 June 2017 at 12:00 which will depart from Rıhtım Street (in front of Simit Sarayı). Same shuttle will travel back to Kadıköy after information session.
Students who will not be on Campus can follow us through simultaneous online webinar. Register to join us for an online Q&A where you can ask us anything about the MBA: WEBINAR REGISTRATION LINK